At present, all-in-one type of integrated garbage compression equipment is mostly a low-level compression structure. The equipment of CIMC Lingyu adopts a high-compression mode, and it fits into the design of the box with a compression pusher to achieve high-level compression and deep compression, so that the density of the garbage is filled evenly. The entire box is full and there is no filling gap. At the same time, the bottom plate of the pusher head adopts a tilted arrangement to prevent the backflow of sewage and effectively protect the compression cylinder.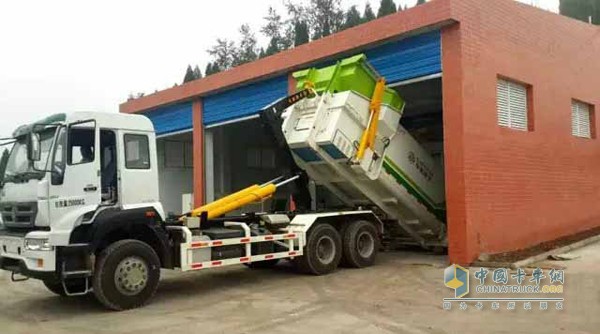 Lingyu integrated garbage compression truck
The one-piece forward hopper hopper volume of 3.0m3 and the hopper inner width of 2300mm can perfectly dock with all types of garbage collection vehicles. At the same time, there is no garbage during the loading process. The hopper lifting mechanism carries out a heavy load test before leaving the factory to ensure the safety and reliability of the feeding operation.
The hydraulic rear door locking mechanism, which takes the power from the detachable garbage truck in the carriage, can complete the operations such as opening the rear door, dumping the garbage, and closing the rear door in the cab. The operation is simple and convenient. At the same time, the rear door adopts anti-friction and anti-aging U-shaped double-strip sealing strips. Before the delivery, each device undergoes a strict watertight test to ensure reliable sealing and no secondary pollution during use.
The hydraulic electric control system adopts all parts of the world-famous brands, and the original imported accessories have achieved high reliability of the product; the remote control and the control panel are used for dual control, and the operation is simple and convenient. The control system also has automatic fault diagnosis, automatic alarm, and error prevention and interlocking functions to ensure the safety of the equipment during use.
Because of the characteristics and good adaptability of the product, cities and townships in Henan, Shandong, Shaanxi, and Sichuan are widely used by users. A customer said: "After using your station, the remote control operation is simple and convenient, and rubbish will not spill when turning the hopper, improving our working conditions, our garbage station has also become tall!" The driver showed us that there was no running, running, driping or missing phenomenon on the road, and it was also safe to use peace of mind!
Replacement parts for John Deere Disc :
Spools, sleeves, disc harrow bearing kit, scraper blade, scraper arm, spring, bearing, wear guard, spirol roll pin, gang standard, weld tube, dust cap, transport wheel hub, oil seal, bushing, etc.
Disc Seed Openers,John Deere Disc Blades,John Deere Disc Seed Openers, John Deere Disc Blades
NingBo Greenly Machinery Co.,LTD , https://www.greenlyagparts.com