Transport Package:
Neurtral Packing or Designated Packing
Transport Package:
Neurtral Packing or Designated Packing
Item: Center Support Bearing               
OEM: MC000083
Fty Ref.No.: LF04Â 
Material: Rubber&Steel      
Brand: LANTECH
Application: Nissan 
Size: Standard OEM Size
Packing:Â Neurtral Packing or designated packing
Place of Origin: Fujian,China         
Certificate: ISO/TS16949:2009
Main Market: Middle East, Southeast Aisa, Africa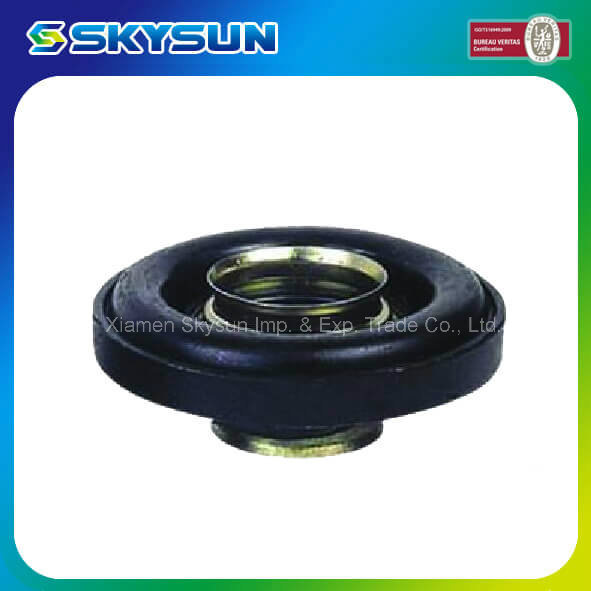 Our Advantages:
Finest raw material and advanced production equipment & technology.

Manufacturer,widely supplier resources,Competitive Factory Price

More than 30 years experience in auto parts

Fast delivery and professional service

W

ide range of products and apply for series of truck brand

Q

uality system following ISO/TS16949:2009

We offer sample for you to test quality

Professional and full of youthful spirit team
Company profile
Xiamen Skysun Imp & Exp.Trade Co.,Ltd is a professional company that focus on truck and trailer chassis parts.Especially on torque rod bush,engine mount,center bearing,air spring,king pin kit,U-bolt etc.
With the backup of its own factory(1985 established) and strong sourcing ability,Skysun supplies much competitive price and high grad quality products to customers and win a good reputation base on its excellent services in this field.
In future,we will do more and more better to support our customers.We would be much appreciate and strive to create a new great business relationship with customers and let business not only business but cooperation,service and win-win partners.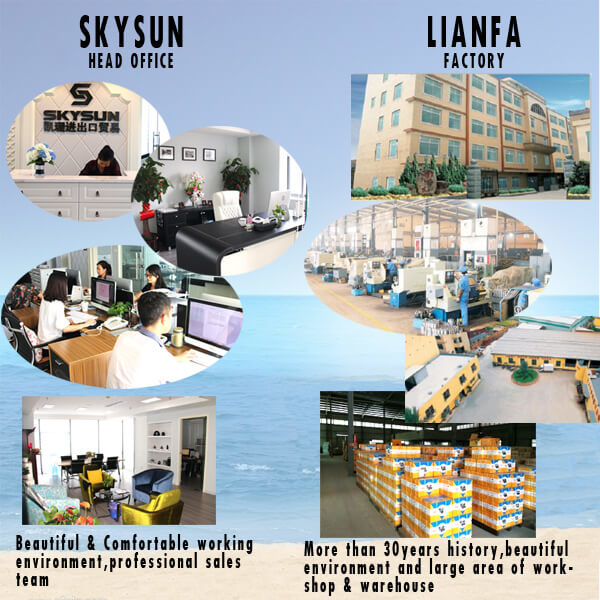 Products range
Our range of products cover all kinds of automotive rubber parts

,

transmission parts for trucks and trailers.Such as:Torque Rod Bush

,

Engine Mounting

,
Center bearing
,
Air spring
,
Shock Absorber
,
U-bolts
,
King Pin Kit
,
Repair Kit.Our quality system following ISO/TS16949:2009.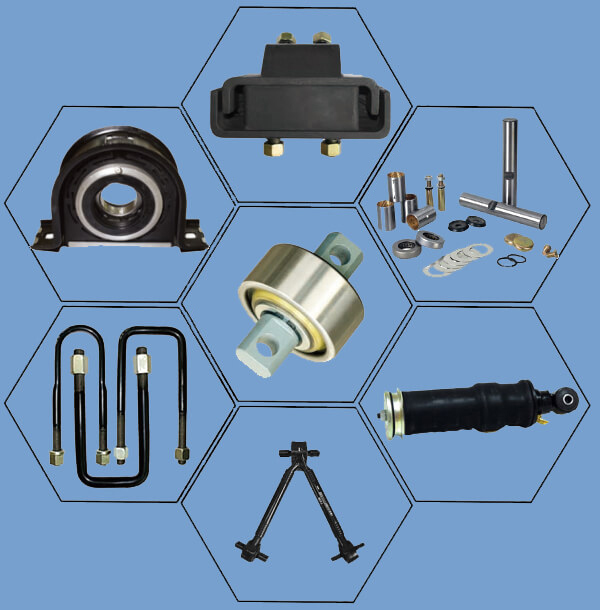 Quality control
We using of the finest raw materials with the most modern technologies and up-to-date production machineries to give our customers premium quality products.
We maintain strict quality control and constant quality surveillance through to final assembly and packing.
We pay strict attention to products is in high bond strength or good anti-vibration properties through our Testing Center.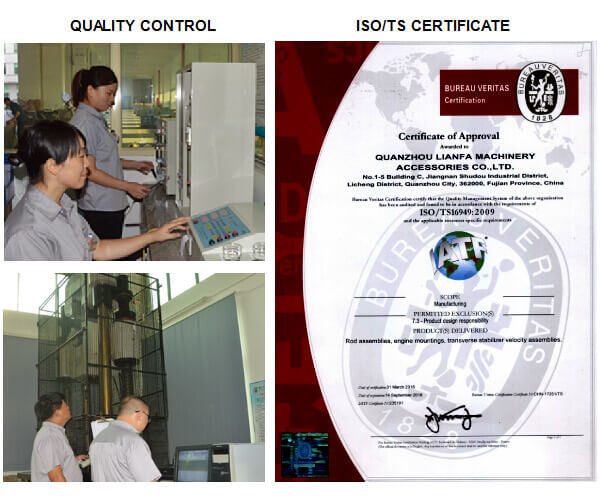 Packing & Shipping
Generally,we pack the products in neutral white boxes and brown cartons.If the customer has special requirements, we will according to customer requirements packaging.
P
acking size:

 
One Box Size       15.5 X 10.9 X 11CM
6 Pcs Carton Size   34 X 30.2 X 11.7 CM
8 Pcs Carton Size   45.5 X 32 X 13.8 CM
12 Pcs Carton Size  34.5 X 32 X 24 CM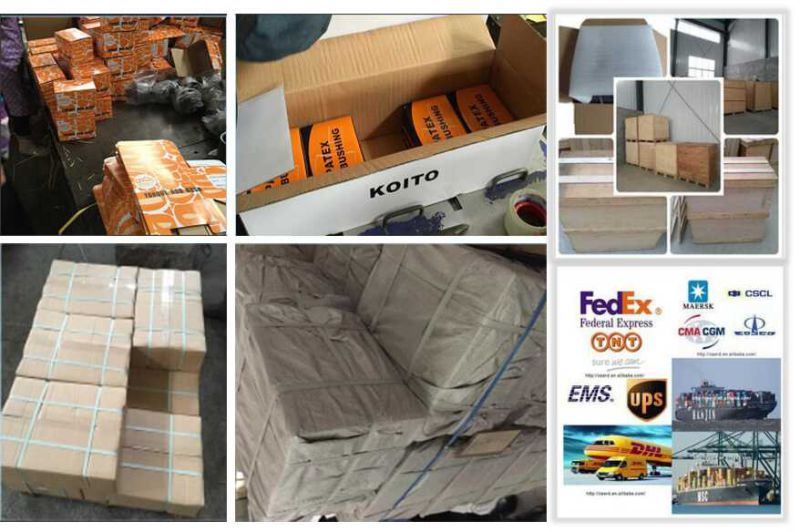 Exhibition and Customer Visit
World wide exhibition we took part in and planned yearly: Indonesia, Dubai, Ind
ia
, Vietnam, Cambodia, South Africa, Panama,
Ru
ssia, Iran...
Also, we visit our customers ev
e
rytime we go abroad with our updating sample, catalog, and quotation sheet for customer reference and save their time.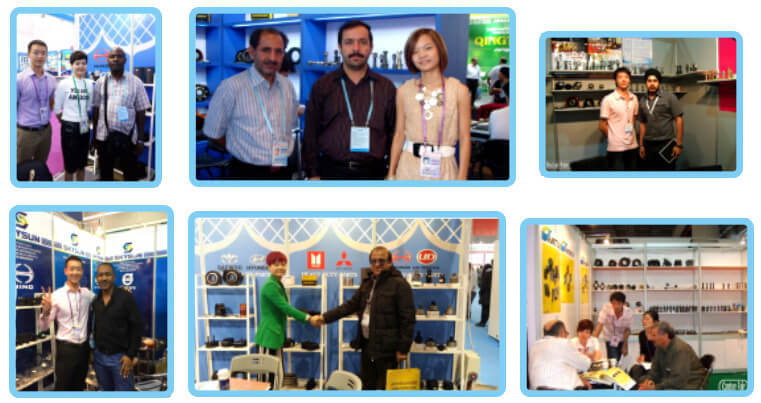 Other Auto Parts We supply:
Name
Auto Brand
OEM/Â Remark
Torque Rod Bush
NISSAN,ISUZU,MITSUBISHI,HINO
55542-Z2000Â Â 
Torque Rod Bush
NISSAN,ISUZU,MITSUBISHI,HINO
55542-Z2005Â Â 
Torque Rod Bush
NISSAN,ISUZU,MITSUBISHI,HINO
55542-00Z04Â Â Â Â Â Â 
Torque Rod Bush
HYUNDAI
55542-00Z03Â Â Â Â Â Â Â Â Â Â Â 
Torque Rod Bush
NISSAN, HINO, ISUZU
49305-1110LÂ Â Â Â Â Â Â Â Â Â Â Â Â Â Â Â Â 
Torque Rod Bush
NISSAN,ISUZU,MITSUBISHI,HINO
55542-00Z08(TPU)Â Â Â LF05Â 34+AB
Torque Rod Bush
NISSAN,ISUZU,MITSUBISHI,HINO
55542-00Z08(TPU)Â Â Â LF05Â 34+AG
Torque Rod Bush
NISSAN,ISUZU,MITSUBISHI,HINO
55542-00Z08(TPU)Â Â Â LF05Â 34+AD
Torque Rod Bush
NISSAN,ISUZU,MITSUBISHI,HINO
55542-00Z08(PVC)Â Â Â LF05Â 216+
Torque Rod Bush
HONDA
52385-SR3-000Â Â Â Â Â Â Â Â Â Â 
Torque Rod Bush
HYUNDAI
HYUNDAIÂ Â Â Â Â Â Â Â Â 
Torque Rod Bush
STEYR
φ80*54*152    
Torque Rod Bush
DONGFENG
φ105*52*152   
Torque Rod Bush
AMERICANÂ TRUCK
ø63*144    
Torque Rod Bush
FRIEIGHTÂ LINER
16-16412-000Â Â Â Â 
Torque Rod Bush
TATAÂ TRUCK
ø95MM     
MOUNTING
MITSUBISHIÂ 
ME031962Â FRONTÂ MOUNTINGÂ FN215
MOUNTING
MITSUBISHIÂ 
ME031964Â REARÂ MOUNTINGÂ FN215
MOUNTING
MITSUBISHI
ME031965Â REARÂ MOUNTING
MOUNTING
MITSUBISHIÂ 
ME062358Â FRONTÂ MOUNTINGÂ FV413
MOUNTING
MITSUBISHIÂ 
ME062600Â REARÂ MOUNTÂ FV413/FVÂ 313
MOUNTING
MITSUBISHIÂ Â 
ME052576Â REARÂ MOUNTINGÂ FV313
MOUNTING
MITSUBISHIÂ Â 
ME061703Â FRONTÂ MOUNTINGÂ FV313
MOUNTING
MITSUBISHIÂ 
ME052272Â FRONTÂ MOUNTÂ FV418/FV515
SPRINGÂ BUMPER
MITSUBISHIÂ 
17225-57500Â REARÂ SPRINGÂ BUMPERÂ 8DC
SPRINGÂ BUMPER
MITSUBISHIÂ 
12255-42101Â REARÂ SPRINGÂ BUMPERÂ 8DC
MOUNTING
MITSUBISHIÂ CANTER
ME011832Â FRONTÂ MOUNTINGÂ 
MOUNTING
MITSUBISHI
ME011832 WITH COVER, FRONT 
MOUNTING
MITSUBISHI
ME018993Â MOUNTING
MOUNTING
MITSUBISHIÂ NEWÂ CANTER
MOUNTING
MOUNTING
MITSUBISHI
FRONTÂ MOUNTINGÂ 6D16
MOUNTING
MITSUBISHI
REARÂ MOUNTINGÂ 6D16
MOUNTING
MITSUBISHI
FRONTÂ MOUNTINGÂ 6D22
MOUNTING
MITSUBISHI
FRONTÂ MOUNTING
CABINÂ BUSH
MITSUBISHIÂ 
MC034038Â FRONTÂ CABINÂ BUSHÂ Â FV418
CENTERÂ BEARINGÂ ASS
MITSUBISHIÂ Â 
12019-25403 WITH COVER  ø55  8DC9
CENTERÂ BEARINGÂ ASS
MITSUBISHIÂ 
12019-25403  ø55  8DC9
CENTERÂ BEARING
MITSUBISHI
CENTER BEARING ø55
CENTERÂ BEARING
MITSUBISHI
MB505495Â CENTERÂ BEARING
CENTERÂ BEARING
MITSUBISHI
MB000076Â CENTERÂ BEARING
CENTERÂ BEARING
MITSUBISHI
MB54086Â CENTERÂ BEARING
CENTERÂ BEARING
MITSUBISHI
MB000815Â CENTERÂ BEARING
CENTERÂ BEARING
MITSUBISHI
MB154080Â CENTERÂ BEARING
CENTERÂ BEARING
MITSUBISHIÂ 
MC861516Â CENTERÂ BEARINGÂ Â T653
CENTERÂ BEARING
MITSUBISHI
MC860215Â CENTERÂ BEARING
CENTERÂ BEARING
MITSUBISHI
MC864410Â CENTERÂ BEARING
CENTERÂ BEARING
MITSUBISHIÂ 
MC860259Â Â T653
CENTERÂ BEARING
MITSUBISHI
MB000083 ø35
HOSEÂ PIPE
MITSUBISHIÂ 
8DC9/UP
HOSEÂ PIPE
MITSUBISHI
8DC9/DOWN
HOSEÂ PIPE
MITSUBISHI
6D22/UP
HOSEÂ PIPE
MITSUBISHI
6D40/UP
HOSEÂ PIPE
MITSUBISHI
FV413/UP
HOSEÂ PIPE
MITSUBISHI
FV413/DOWN
HOSEÂ PIPE
MITSUBISHI
FV413/LONG
HOSEÂ PIPE
MITSUBISHI
FV413/SHORT
HOSEÂ PIPE
MITSUBISHI
 
HOSEÂ PIPE
MITSUBISHI
 
LOWERÂ ARMÂ BUSH
MITSUBISHI
MB951813
LOWERÂ ARMÂ BUSH
MITSUBISHI
MB109662
LOWERÂ ARMÂ BUSH
MITSUBISHI
MB430960
LOWERÂ ARMÂ BUSH
MITSUBISHI
MB631492
LOWERÂ ARMÂ BUSH
MITSUBISHI
MB633070
LOWERÂ ARMÂ BUSH
MITSUBISHI
MB161668
Torque Rod Bush
NISSAN
55542-3001Â Â UDÂ Â Â Â Â Â Â Â Â Â Â Â Â Â 
Torque Rod Bush
NISSAN
55542-90018Â Â UDÂ Â Â Â Â Â Â 
Torque Rod Bush
NISSAN
55542-00Z02Â Â UDÂ Â Â Â 
MOUNTING
NISSANÂ CW53,CW54
11328-Z2009Â REARÂ MOUNTING
MOUNTING
NISSANÂ CWA45
11328-Z2008Â REARÂ MOUNTING
MOUNTING
NISSANÂ CWB520
11328-00Z09Â REARÂ MOUNTING
MOUNTING
NISSAN RF8, RF10
11328-00Z04Â REARÂ MOUNTING
MOUNTING
NISSAN RE8, RD8
11223-00Z05Â FRONTÂ MOUNTING
MOUNTING
NISSANÂ CPB12Â Â 
11223-Z0007Â Â FRONTÂ MOUNTINGÂ Â Â Â Â 
MOUNTING
NISSANÂ RE8,RD8
11223-Z2010Â FRONTÂ MOUNTING
MOUNTING
NISSANÂ CWBÂ 520
11223-00Z01Â FRONTÂ MOUNTING
MOUNTING
NISSANÂ CPBÂ 12
52203-1490AÂ REARÂ CARBINÂ MOUNTING
CENTERÂ BEARING
NISSAN
37521-01W25
CENTERÂ BEARING
NISSAN
37521-W1025
CENTERÂ BEARING
NISSAN
37521-41L25
CENTERÂ BEARING
NISSAN
37521-56G25Â CENTERÂ BEARING
CENTERÂ BEARING
NISSAN
37521-33G25
CENTERÂ BEARING
NISSAN
37505-85L00
CENTERÂ BEARING
NISSAN
37521-WJ1025Â UD
CENTERÂ BEARING
NISSAN
37521-69800
CENTERÂ BEARING
NISSAN
54320-71L00
CENTERÂ BEARING
NISSAN
37521-36G25
CENTERÂ BEARING
NISSAN
37510-9009Â Â CPBÂ 12
MOUNTING
NISSAN
54320-TILOO
LOWERÂ ARMÂ BUSH
NISSAN
54476-66U20
LOWERÂ ARMÂ BUSH
NISSAN
54560-20N00
LOWERÂ ARMÂ BUSH
NISSAN
55135-01J10
LOWERÂ ARMÂ BUSH
NISSAN
55157-5P000
HOSEÂ PIPE
NISSAN
HOSEÂ PIPEÂ Â RD8/UP
HOSEÂ PIPE
NISSAN
HOSEÂ PIPEÂ Â RD8/DOWN
HOSEÂ PIPE
NISSAN
HOSEÂ PIPEÂ Â RE8/UP
HOSEÂ PIPE
NISSAN
HOSEÂ PIPEÂ RF8/UP
MOUNTING
HINO FS271, EF750
12031-1801AÂ FRONTÂ Â 
MOUNTING
HINOÂ FSÂ 270
12035-2340Â Â REARÂ 
MOUNTING
HINO FS271, H07D
12031-1720BÂ Â FRONTÂ 
MOUNTING
HINOÂ EF500,H07D
12035-1061Â REARÂ 
MOUNTING
HINOÂ FS270
12031-1080Â FRONTÂ 
MOUNTING
HINOÂ RANGER
12035-1850Â REARÂ 
MOUNTING
HINOÂ FG
12031-2021Â FRONT
MOUNTING
HINOÂ FG
12035-1660AÂ Â REARÂ 
MOUNTING
HINO KR, LB
12031-1020Â Â FRONT
MOUNTING
HINOÂ LB
12035-1050Â Â REAR
MOUNTING
HINOÂ ZM
48301-1180Â SPRINGÂ BUMPER
MOUNTING
HINOÂ FG
52406-1070Â CABINÂ BUSH
MOUNTING
HINO
12031-2532Â FRONTÂ 
MOUNTING
HINO
12031-2231Â FRONT
MOUNTING
HINO
12032-1131AÂ Â LH
MOUNTING
HINO
12032-1131AÂ Â RH
MOUNTING
HINO
MOUNTING
MOUNTING
HINO
MOUNTING
MOUNTING
HINO
12031-1880Â Â MOUNTING
WATERÂ PIPE
HINO
AIR/LÂ Â F17C
HOSEÂ PIPE
HINO
EF300/DOWN
WATERÂ PIPE
HINO
EF750
HOSEÂ PIPE
HINO
EF750/UP
HOSEÂ PIPE
HINO
EF750/DOWN
HOSEÂ PIPE
HINO
EK100/UP
HOSEÂ PIPE
HINO
EK100/DOWN
HOSEÂ PIPE
HINO
E17C/UP
HOSEÂ PIPE
HINO
E17C/DOWN
HOSEÂ PIPE
HINO
AIR/SÂ Â F17D
HOSEÂ PIPE
HINO
AIR/LÂ Â F17D
HOSEÂ PIPE
HINO
F20C/UP
HOSEÂ PIPE
HINO
F20C/DOWN
MOUNTING
ISUZU
1-53225-061-0Â Â FRONTÂ V10
MOUNTING
ISUZU
1-53225-187-0Â Â REARÂ Â V10
MOUNTING
ISUZU
1-53225-075-0Â Â REARÂ TXD
 
ISUZU
SPZ
MOUNTING
ISUZU
LH
MOUNTING
ISUZU
RH
NYLONÂ BUSH
ISUZU
9-51519-575Â NYLONÂ BUSHÂ SPZ
MOUNTING
ISUZU
1-53225-062-0Â Â RH
MOUNTING
ISUZU
8-9703918-0Â LH
MOUNTING
ISUZU
8-9703918-0Â Â RH
CENTERÂ BEARING
ISUZU
5-37516-006-0
CENTERÂ BEARING
ISUZU
1-37516-005-1  ø40
CENTERÂ BEARING
ISUZU
1-37516-006-1  ø32
CENTERÂ BEARING
ISUZU
9-37516-030-0  ø32
CENTERÂ BEARING
ISUZU
1-37516-105-0  ø45
CENTERÂ BEARING
ISUZU
5-37516-007-1 ø45
CENTERÂ BEARING
ISUZU
9-37516-045-0Â Â SPZ
CENTERÂ BEARING
ISUZU
8-94222-972-0Â 
CENTERÂ BEARING
ISUZU
8-94328-799-0Â 
CENTERÂ BEARING
ISUZU
8-94328-800-0
CENTERÂ BEARING
ISUZU
1-37516-043-1  ø50/ø55/ø60/ø65
LOWERÂ ARMÂ BUSH
ISUZU
8-94336-509
LOWERÂ ARMÂ BUSH
ISUZU
8-9701865-0
LOWERÂ ARMÂ BUSH
ISUZU
8-97081408-0
LOWERÂ ARMÂ BUSH
ISUZU
8-97021055-0
LOWERÂ ARMÂ BUSH
ISUZU
8-97018166-1
LOWERÂ ARMÂ BUSH
ISUZU
8-94375106-0
HOSEÂ PIPE
ISUZU
6HE1/UP
HOSEÂ PIPE
ISUZU
6HE1/DOWN
HOSEÂ PIPE
ISUZU
6WF1/DOWN
HOSEÂ PIPE
ISUZU
10PC1/UP
HOSEÂ PIPE
ISUZU
10PC1/DOWN
MOUNTING
TOYOTA
12361-78100Â RH
MOUNTING
TOYOTA
12362-78100Â LH
MOUNTING
TOYOTA
12361-17020 FRONT LCS, HZJ75
CENTERÂ BEARING
TOYOTA
37230-38010
CENTERÂ BEARING
TOYOTA
37230-22042
CENTERÂ BEARING
TOYOTA
37230-24010
CENTERÂ BEARING
TOYOTA
37230-35050
CENTERÂ BEARING
TOYOTA
37230-35030
CENTERÂ BEARING
TOYOTA
37230-35080
CENTERÂ BEARING
TOYOTA
37230-35061
CENTERÂ BEARING
TOYOTA
37230-36060
CENTERÂ BEARING
TOYOTA
37230-36H00
CENTERÂ BEARING
TOYOTA
37230-20090
CENTERÂ BEARING
TOYOTA
37230-40031
CENTERÂ BEARING
TOYOTA
37230-35013
CENTERÂ BEARING
TOYOTA
37230-87302
CENTERÂ BEARING
TOYOTA
48609-22010
CENTERÂ BEARING
TOYOTA
48609-22030
CENTERÂ BEARING
TOYOTA
48603-06020
CENTERÂ BEARING
TOYOTA
48609-06070
CENTERÂ BEARING
TOYOTA
37230-35120
MOUNTING
TOYOTA
12361-16040
MOUNTING
TOYOTA
12361-11160
MOUNTING
TOYOTA
12380-42080
MOUNTING
TOYOTA
12371-11210
MOUNTING
TOYOTA
12371-75030
MOUNTING
TOYOTA
12371-54050Â REARÂ HILUXÂ LN65
MOUNTING
TOYOTA
12371-11430Â REARÂ 
LOWERÂ ARMÂ BUSH
TOYOTA
VIOS/LH
LOWERÂ ARMÂ BUSH
TOYOTA
VIOS/RH
LOWERÂ ARMÂ BUSH
TOYOTA
48654-32080
LOWERÂ ARMÂ BUSH
TOYOTA
48654-12120Â 
Torque Rod Bush
MERCEDESÂ BENZ
000-350-1005  ø67×115
Torque Rod Bush
MERCEDESÂ BENZ
ø67×100
Torque Rod Bush
MERCEDESÂ BENZ
000-330-0707  ø75×115
Torque Rod Bush
MERCEDESÂ BENZ
ø75×130
Torque Rod Bush
Horse Trailer

Horse Trailer,Stock Trailers,Mini Horse Trailer,Bumper Pull Horse Trailer

shandong Herui Mechanical Co., Ltd , https://www.heruihorsefloat.com